Life Transition Coaching with Life Coach Catharine Ecton
As an accomplished life coach and educator, Catharine is expert at helping her clients develop clear-cut goals, deciding when to make a change, and achieving real, lasting satisfaction in life. She is celebrated for her work as a life coach working with individuals, professionals, athletes, and coaching coaches in designing and living extraordinary lives. Her master's degree in education, life experience, achievements, and fulfillment as a late-life sports competitor give her the perspective and insight to coach her clients to success.
Experience Counts
Certified Life Coach Catharine Ecton is based in Washington, DC and provides Life Transition Coaching for her clients by phone or Skype. She has worked with many diverse individuals and enjoys a high client satisfaction rate. Read testimonials from her many happy life coaching clients here.
What is Life Transition Coaching?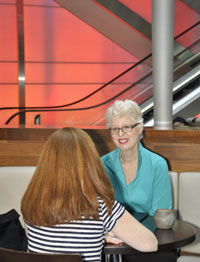 Most often, Life Transition Coaching sessions focus on navigating a life change such as adjusting to a new geographical area, making a career change, moving past personal obstacles, adopting healthy habits or getting more engaged in life post-retirement. Sometimes, sessions address issues such as: improving communication skills, conquering the tendency to procrastinate, and developing a more satisfying approach to life. Catharine believes that with coaching you can:
Cope with being unexpectedly single (still waiting for "the one," divorce, etc.)
Find meaning in an empty nest
Grow into your role as a Mid-Life Mom (had children later in life)
Re-frame a layoff or job loss as an opportunity
Create a life you love with the love of your life (Relationship Coaching)
Design an exceptional life after 40 (Mid-Life Coaching & Mid-Life Coaching for Women)
Create a fulfilling life post-retirement
Turn life changes into opportunities to live your best life
Contact Catharine Ecton for a complimentary, no-obligations life coaching consultation to discuss the possibilities. Or use the Appointment Scheduler and pick a time that works for you. Catharine coaches 90% of her clients over the phone.
Life Transition Coaching and You
"Friends, family and bad or inexperienced life coaches might be good at telling you what to do or constantly giving you advice when you come to them with a problem or idea for change," says Catharine. "You can find plenty of instructions or advice for living your best life on the Internet, or in a self-help book. But as a trained and certified Life Coach, my job is not to 'instruct' or 'advise' you. My job is to help you explore and come up with the best choices for you based on where you want to be, and develop a concrete plan with actionable steps to get there."
Unlike self-help books or the Internet, Catharine will work collaboratively with you. Unlike your friends and family, she's an expert at the process of changing behavior … which is much more valuable than instructions or advice when you truly want to make a change. Warning: it also may be far more effective!
Are you ready to start living the life you always dreamed of? Are there changes you need to make or obstacles you need to overcome to start doing so? Are you ready to get "unstuck"?
"Yesterday I was clever, so I wanted to change the world. Today I am wise so I am changing myself." (Rumi, 1207-1273)
Catharine Ecton provides Life Transition Coaching for her clients in Washington DC and beyond by phone or Skype. She has worked with many diverse, interesting individuals from all over the globe and enjoys a high client satisfaction rate. Caroline Miller, reknown author, certified professional life coach and motivational speaker says Catharine "coaches beautifully while also role-modeling the resilience and courage needed to make hard choices." Read more of Catharine's client testimonials.
Professional Training
Catharine received her training at the CTI (co-aCTIve) Institute, an organization with a 25-year track record of success whose founders were among the initial pioneers of the life coaching profession. "Seven Habits" author Stephen Covey praised CTI's manual "Co-Active Coaching", and the organization boasts rigorous and consistent standards for its students. While participating in classroom work, coaching practicum and teleconference coaching, Catharine learned the co-active model, a powerful process for engaging with clients that is supported by the most up-to-date scientific research. A life-long educator, Catharine uses a powerful process based on her training at CTI. She became certified after a rigorous examination and practicum, and is pleased to use her skills to inspire her clients to exciting new beginnings.